This is an example newsletter sent to subscribers on the 3rd of April 2023.
---
Programming note: handpicked will be off on Easter Monday, so see you again on the 17th. I also had a misunderstanding about a trash bin with my neighbour which ended well. 🥳
👀 Handpicked twenty
📨 readers submitted
🗂️ database with six more jobs this way
🧞‍♂️ Outliers.
🎬 Projects & Product.
💾 Data & Operations.
---
🗞 Top inspiration snippets
🇩🇪 Berlin & Other good stuff
💧 March was the wettest March since 2000 in Brandenburg. Please do not say: "What is with global warming now, hä?"
🚴‍♀️ In 2022 there were almost 27k bikes stolen in Berlin. I wonder how this compares to other flat cities like Amsterdam. I could not find any data on "stolen bikes per capita" or "% of bikes stolen" for context.
🦾 You can talk to Sam Altman, the CEO of OpenAI in Munich somewhere in May or June. Apply here. Many other cities are available outside Germany. Good luck and see you there!
🥴 Here is a story about how tech can make your life miserable ("I loved Monzo, until I got robbed in Berlin" by Ali Griswold. In fact, instead of tech, it is probably poor product management at Monzo without proper customer journey discovery? Or is it understaffed operations? We will never know.
Back to Germany: on the accountability of Auslandbehörde, a good discussion on Reddit. Ignorance and arrogance are a problem, and there is plenty of it in Germany. You can pair this fact with Why is Germany a rich country? (🇩🇪), a great wake-up call from 5 years ago. A fun fact: Made in Germany was considered shit in the 19th century, a cheap copy-paste of the products from the UK.
🤡 Nice! Deutsche Bahn was on time only 65.2% of the time, which is the worst record since … ever? And "delayed" stats only count after more than 6 minutes of delay. Nevertheless, the big boss took home €2.24M for his performance, more than double compared to last year. (🇩🇪) Maybe it was because of freight? Anyways, double nice!
layoffs.fyi & other sources: Flink is supposedly raising funds at a lower valuation. Alpakas, another grocery delivery service, is insolvent; DiscoEat, restaurant software, is, after 2019, insolvent again; Quofox, online courses, is also insolvent.
r/berlin choice of the week: this post and video about 4€ art vending machines. In the comments also some opinions that it ain't as cool as it seems. A direct link to the map is here.
In short: SAP wants to invest in Aleph Alpha, the German OpenAI based in Heidelberg; Sparkasse Berlin tripled its profits in 2022 (€132M); insolvent Natural Mojo and Skingood from Invincible Brands were bought by Göde Group; Got Photo (fotograf.de) was taken over by PE fund EQT.
If you are by any chance thinking about a short trip outside Berlin for a couple of days over Easter, check out this crowd wisdom at r/berlin.
💔 I was a big fan of the platform, but I agree: Twitter is dying, and Elon lost much of his previous "genius" karma. A sad sight and a lesson on how not to manage social media. I cannot believe I am writing this, but I started to like LinkedIn. You can follow handpicked page there as well.
🎪 It is already April, my my how time flies: what to do in April in Berlin by exberliner. A good list as always.
✍🏼 I published about the benefits of work journaling last Thursday. In case you missed it: I recommend doing a monthly summary of your main achievements.
How much would you need to pay Russian soldiers to defect for EU citizenship? $100k would cost $20B. An interesting thought experiment.
💸 Recently funded in Berlin & Germany
---
🤓 Timeless and useful
It is gift season. So, how to buy great presents? Collecting a running list during the year sounds like a great tip. Also, "Can I introduce someone to something they might not otherwise know about? Can I get them a nicer version of something than they would buy for themselves? Or can I make them feel seen?"
---
😅 Meanwhile
we survived last Monday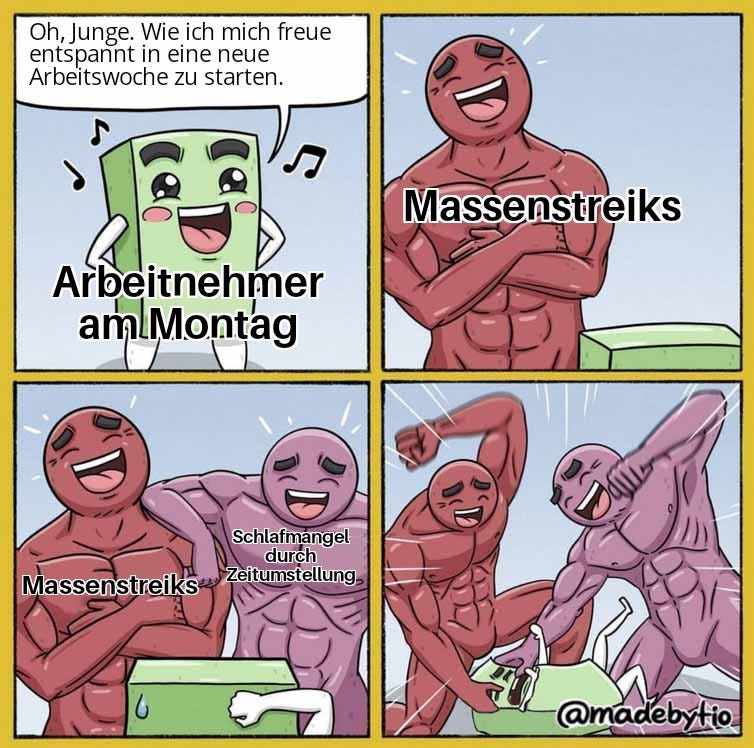 This is a footer 💡 fact from a paper in Nature that small teams are more likely to develop disruptive, novel ideas than large teams.
If you have made it this far, bang that like button. ❤️🙏
---